Artist: BY:ava clay-Gritsonis
Album: ??????
I made this song about my friend and i get it if you don't like it it's horrible
the one year i was together with her i played with her the most i cared for her the most but then the next year she closed the doors on me and left me alone in the place i felt so sad at that very moment when she left me without saying goodbye she warned us that she was leaving but i didn't think she was gonna leave so very soon when all the fun was starting to come we laughed together we slept together on the bus on field trips but now that i think shes gone i cant play with her again until she comes back which i kind of doubt that will be soon but i just cant believe that left me on that very day that very day it made me so sad to see her cry when she left and she was my best friend i wish she never left me out here i wish i could go with her to a whole world but that will just not happen now here at home now i want her back here at home same with some other people she touched our hearts in someway when she was here at this school______________.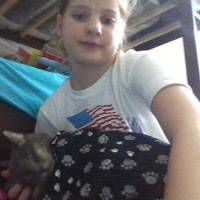 Ava Gritsonis
Followers


13
Following


2
Nashotah, WI, USA
i have always wanted to write a song and become a musician and let other people hear music i have made all by myself
More like this