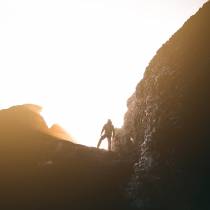 1 year ago
201
0
So, you've been stuck in a rut for sometime. It seems like no one really understands or cares. Maybe you ask yourself if this is all there is. Maybe you thought things we're going to go differently in your life, or some things happened that you didn't anticipate. Or maybe a bad day, turned into a bad month, turned into years. Maybe someone hurt you in a way that you didn't think you could be hurt or changed that way.
But today is different. Something's different today. It can't be explained, but there's something in you today. A little more energy, a little more willpower, a little more fight. Something's been building up. You're becoming something powerful. You feel something. You're becoming the thing you always wanted and thought you could be.
You are special. You are unique and you are powerful. Trust your intuition. You are bound to do great things. Don't hold back. Don't question it. Grab a pencil, pace back and forth, start doodling and writing down your ideas fervently. Write pages and pages and pages for hours. Don't worry about nothing else. Go for a long walk and think, and dream. Put things into motion. Don't wait. Then later go treat yourself to something good and feel good about yourself.
It will take some hard work and some time, but you got this. Someday soon, you will look back at those tough times that seemed like they were never going to end and it won't seem like it happened just yesterday. And you'll help others get through similar times that they think will never change.
Things are changing.
Today is different.
Austin, TX, USA
Austin-based songwriter and pianist Unden Leslie began playing piano at 16 years old, and earned several degrees in Composition in Los Angeles, and San Francisco.
Followers


22
Following


2
Music 17
Videos 21
Playlists 1
Posts 6
Groups 0
Views 8176
Likes 11
More like this