Contemporary music aficionados love to make music online for reasons aplenty. Apart from being the easiest way to experiment with different notes, top quality music making applications offer a whole plethora of other benefits too.
Read on to find out more reasons that explain why online music making is great joy!
Making your own music soothes the mind and the body
Research has revealed that casual music-making can mitigate stress and prevent it from turning chronic. Experiments have been conducted in the past and have revealed that music making is important for the better mental health and overall well-being of the individual. People who make music online approach the art with a calmer attitude thus paving way for more relaxation and less anxiety. Students who make music online can prevent burnout situations. Easy online music making takes the mind off the usual grind for professionals. The online music making applications are in fact so addictive that they quickly become a part of their lifestyle.
Share your wonderful compositions and become popular
When you have just composed a catchy tune, and want to make your song viral, the online music making software allows you to do so effortlessly. Connect to the internet just through a few clicks and have music lovers from all over the world to appreciate your efforts.
Recreational music for the heart and soul
Add your own plug-ins, get help with lyrics, try different beats and just let your heart go with the flow by using a goodonline music making application. The cool and unruffled interface of these applications allows the music lover to experience ultimate fun without caring too much about the outcomes. This indeed is a blessing as music lovers can enjoy more freedom without investing in multiple instruments.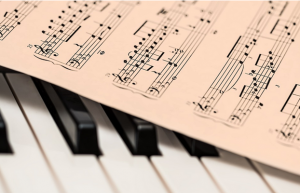 You do not have to be a pro
If you truly passionate towards music and have had no professional training earlier, you can still make music online with the right applications. The interface is simple and designed to satisfy the needs of both the veteran as well as the struggling amateur.
Make music online at no extra cost
From virtual instruments to lyrics generation, there are so many options to add more zeal to your song by using the online tools. The top applications are 100% web-based and they allow the music lover to experiment with multiple sounds, effects and lyrics at no additional cost. Some top class applications also offer DJ mixers to help users create their own hit list for the dance floor.
Easy and can be used on the go
Web-based music making software can be used from anywhere, anytime and by anyone with a strong love for music. Individuals as well as groups can collaborate through the platform and create music videos of all types and for all genres.
Clearly, if you are yet to try one of the fun-filled music applications online, it is probably the right time to explore this blissful experience.